Toshiba Memory announces video speed class 30 (V30) EXCERIA microSDXC cards
Mobile World Congress 2018, Barcelona – hall 4, booth 4A5Ex: Toshiba Memory Europe GmbH announces video speed class 30 (V30) EXCERIA microSDXC cards, optimised for 4K ultra HD video recording and combining large capacity with high speed
Düsseldorf, Germany, 26 February 2018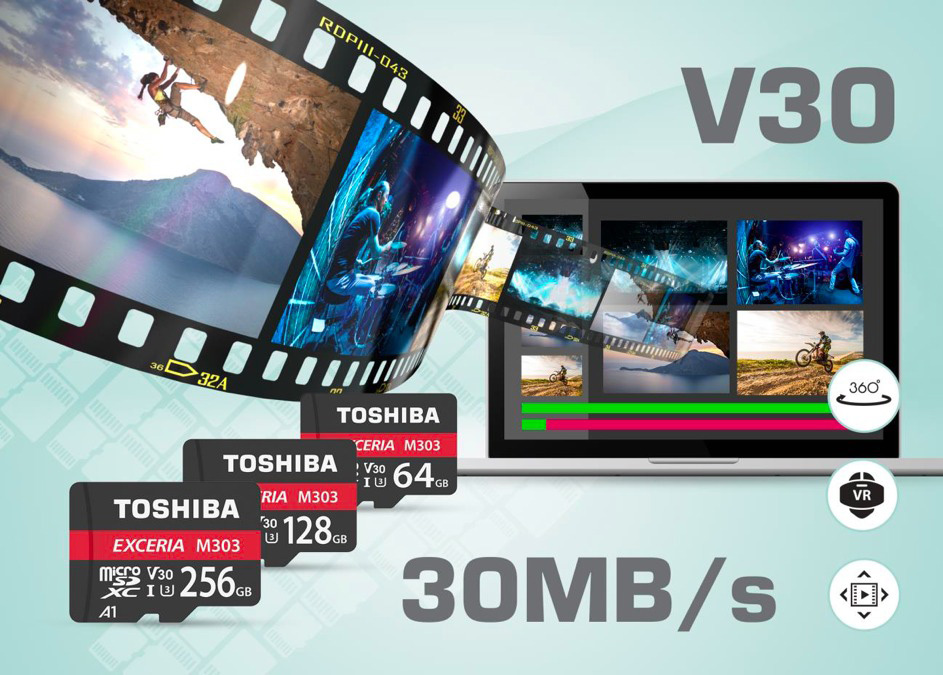 Toshiba Memory Europe GmbH has announced three new additions to the EXCERIA family of microSDXC cards, named M303. With capacities of up to 256GB[1], maximum read/write speeds of 98MB/s and 65MB/s[2] respectively, as well as a new Video Speed Class 30 (V30)[3], the M303 allows users to record and store 4K Ultra HD content.

The M303's speed rating supports 4K Ultra HD video recording; a prerequisite for the latest action cameras, video recorders and drones.
Smartphones compatible with microSDXC specification will benefit from the M303's ability to write high-resolution videos and images at high speed. Rated with Video Speed Class 30 (V30), the M303 provides a minimum data transfer rate of 30 MB/s with a recommended UHS device under the conditions regulated by SD association.

Utilising Toshiba Memory Corporation's 3D Flash memory technology (BiCS FLASH), the M303 achieves greater storage capacities. As a result, cards are delivered in capacities starting 64GB, 128GB and 256GB. The 256GB card is capable of storing more than thirty thousand high-resolution images[4], or more than 5 hours of 4K video[5]. Operating at a temperature range of -25˚C to +85˚C[6], the M303 is shockproof[7], X-ray proof[8], and waterproof[9], and combines reliability and high-speed performance even under such harsh conditions. The M303 cards come with a five-year warranty[10].

"The M303 allows users to store and take large quantities of high-resolution content, without having to stop recording videos in order to change cards or the need to delete files to free memory capacity. The cards also provide higher performance in writing smartphone data to microSD cards compared to our previous model[11]", comments Sandrine Aubert, Product Marketing Manager at Toshiba Memory Europe.

The M303 cards will commence shipping by the end of Q1 2018. First samples will be on display at Toshiba Memory Europe's stand (Hall 4, Booth 4A5Ex) at Mobile World Congress in Barcelona, Spain, between 26th February and 1st March 2018.
Notes:

[1] One Gigabyte (1 GB) means 109 = 1,000,000,000 bytes using powers of 10. A computer operating system, however, reports storage capacity using powers of 2 for the definition of 1 GB= 230 = 1,073,741,824 bytes and therefore shows less storage capacity. Available storage capacity (including examples of various media files) will vary based on file size, fomatting, settings, software and operating system and other factors.
[2] 1 MB/s is calculated as 1,000,000 bytes/s. These values are the best values obtained in specific test environments at Toshiba Memory Corporation. Toshiba Memory Corporation neither warrant read nor write speed use in individual devices. Read and write speed may vary depending on user-specifications such as devices used and file size read or written.
[3] A Video Speed Class 30 (V30) SD memory card indicates a minimum write speed of 30MB/s with UHS-I & UHS-II devices. V30 SD memory cards support 4K and Full-HD video recording. 4K video recording operation may vary depending on devices you use and other factors such as file attributes and/or size.
[4] Approximate shots with 18M pixels. Assumed compression rate = 1/4. Number of shots varies depends on photo subjects, shooting condition, resolution and compression rate.
[5] Approximate play time 4K Movie(100Mbps). Actual time depends on the movie device, resolution and compression rate. 1 Mbps=1,000,000 bps
[6] This is based on Toshiba Memory Corporation's test results. The operation in all the situations is not warranted.
[7] The product (only card) can function after carrying out the gravity fall of this product (only card) from 5m in height (Based on Toshiba Memory Corporation's test results).
[8] ISO7816-1 equivalent. According to the ISO7816-1 standard, the product can function after contamination with 0.1 Gy of X-ray.
[9] IPX7 equivalent. According to the IPX7 standard, the product can function after it is submerged quietly and left for 30 minutes in static water at room temperature (15°C to 35°C) and at a depth of 1m.
[10] For more information on our five-year warranty, please visit: http://www.toshiba-memory.com
[11] EXCERIA M301