Toshiba Memory launches new NVMe/PCIe retail SSDs featuring 96-layer TLC BiCS FLASH 3D flash memory
RD500, RC500 deliver enthusiast-level performance to gaming and mobile PCs
Düsseldorf, Germany, 1 August 2019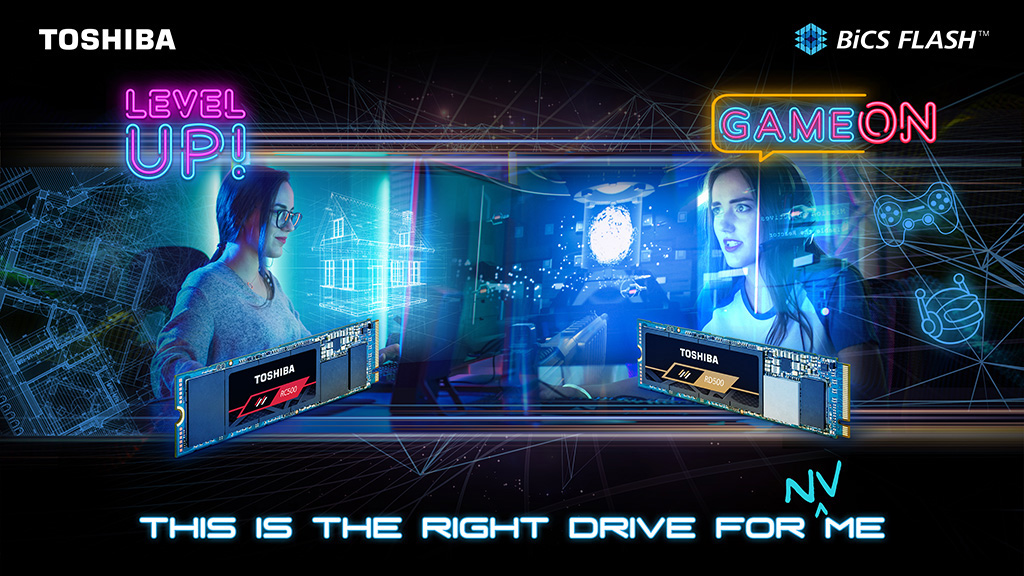 Toshiba Memory Europe GmbH today announced the launch of two new series of NVMe/PCIe 3.0 Gen3x4 M.2 solid state drives (SSDs), the RD500 and RC500 Series. Both product families feature the company's own state-of-the-art 96-layer TLC (triple-level cell) BiCS FLASH 3D memory. Toshiba Memory's new SSDs are high-performance solutions for today's mainstream gamers, DIY system builders and upgrade solution seekers.
A next-generation PCIe interface enables the RD500 and RC500 Series to provide a more responsive PC experience with shorter storage latency than that of SATA SSDs.

Suitable for PC gaming enthusiasts, the RD500 Series offers top-of-class[1] performance thanks to a newly designed 8-channel controller that brings out the full potential of BiCS FLASH. The RD500 Series achieves sequential read and write speed up to 3,400MB/s and 3,200MB/s respectively and delivers random read and write performance up to 685,000 IOPS and 625,000 IOPS. The RD500 Series is available in capacities up to 2,000 gigabytes (GB) / 2 terabytes (TB).

Built from the ground up to deliver faster-than-SATA performance, the RC500 Series uses a 4-channel controller that is ideal for users requiring faster solutions for mainstream PCs. Available in capacities up to 1,000GB / 1TB in a single-sided module, the RC500 Series realizes top-class random performance[2].

"With the introduction of the new NVMe/PCIe SSDs, RD500 and RC500 Series, we have created a dedicated range for the Gaming enthusiast and mainstream gamer. This will allow them to enhance speed and performance of their systems for an all-round better gaming experience," comments Paul Rowan, Vice President at Toshiba Memory Europe GmbH.

The new SSD series will be available in the fourth calendar quarter of this year.

RD500 and RC500 performance:
 
Performance[3]
RD500
RC500
500GB/1TB[4]/2TB[4]
250GB/500GB/1TB[4]
Sequential Read: MB/s
Up to 3,400
Up to 1,700
Sequential Write: MB/s
Up to 3,200
Up to 1,600
Random Read: IOPS
(4KiB, QD32, T8)
Up to 685,000
Up to 355,000
Random Write: IOPS
(4KiB, QD32, T8)
Up to 625,000
Up to 410,000
Warranty
5 Years
3 Years

Key features of the RD500 and RC500 include:
 
96-layer TLC BiCS FLASH
PCIe 3.0 Gen3x4
NVMe 1.3c interface specifications supported
Available in a compact M.2 2280 (22x80mm) form factor for compatibility with desktop and notebook PCs
SLC cache

Editor Notes:

Toshiba Memory's new SSDs will be shown at the China Digital Entertainment Expo and Conference (China Joy) from August 2-5 in Shanghai.
Notes:

[1] Toshiba Memory Corporation survey, in the segment of high-end NVMe consumer SSDs, as of August 1, 2019.
[2] Toshiba Memory Corporation survey, in the segment of mid-range NVMe consumer SSDs, as of August 1, 2019.
[3] The performance mentioned herein are reference data as of August 1, 2019 and may vary with the RD500 / RC500 product data in the datasheet. Toshiba Memory Corporation survey based on sequential read of 128KiB units and random read of 4KiB units under Toshiba Memory Corporation test conditions.
[4] Definition of capacity: Toshiba Memory defines a gigabyte (GB) as 1,000,000,000 bytes and a terabyte (TB) as 1,000,000,000,000 bytes. Available storage capacity (including examples of various media files) will vary based on file size, formatting, settings, software and operating system, such as Microsoft Operating System and/or pre-installed software applications, or media content. Actual formatted capacity may vary.

PCIe is a registered trademark of PCI-SIG.
NVMe is a trademark of NVM Express, Inc.
All other company names, product names and service names may be trademarks of their respective companies.

Please note: The pictured design of the product, specifications and related information are subject to change without notice.