SSD Utility Management Software
SSD Utility is a Graphical User Interface (GUI) based management software tool designed to help you maintain, monitor and tune your SSD!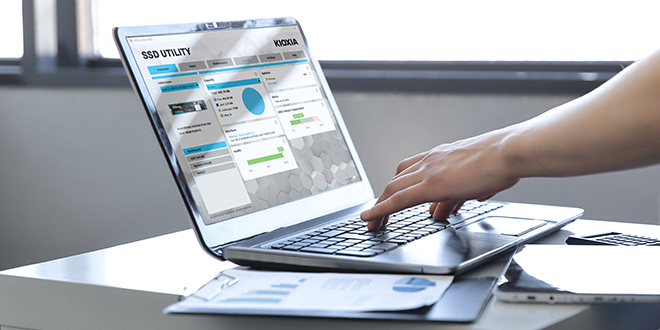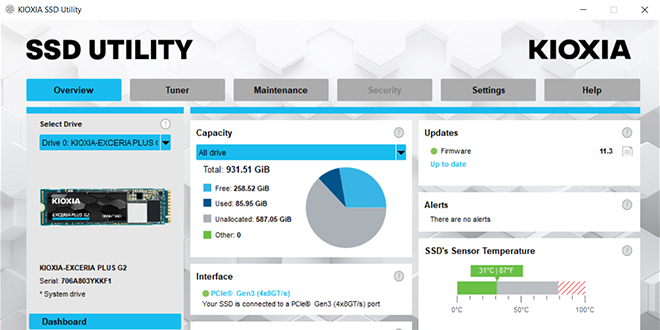 Get a comprehensive real-time overview of system status, capacity, interface, health, updates, and more.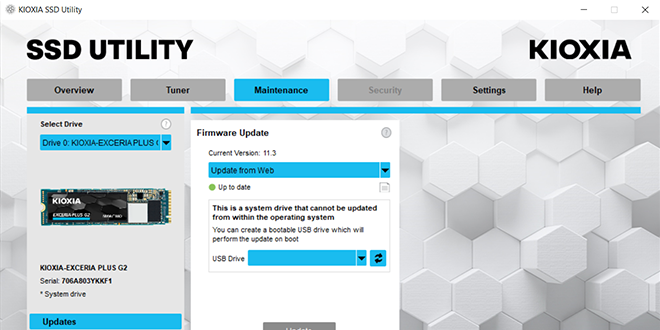 Every now and then we recommend you update your SSD's firmware to enhance performance and stability. Now you can easily update right here in SSD Utility.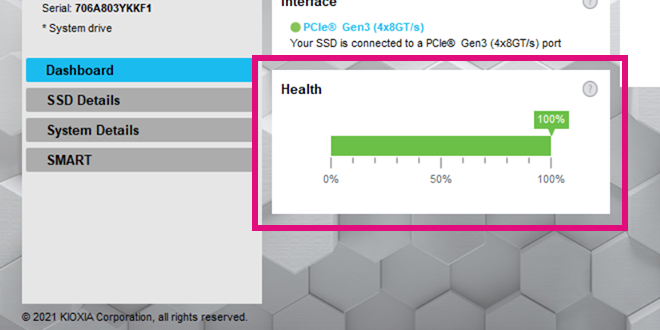 Check in on how much life is left in your SSD, find out if your SSD is hooked up to the suitable ports, and set in the correct modes to achieve high performance.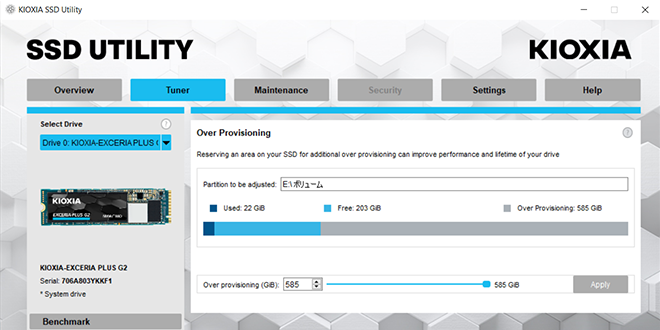 This feature allows you to fine-tune your SSD. May quickly adjust the over-provisioning to enhance long-term performance.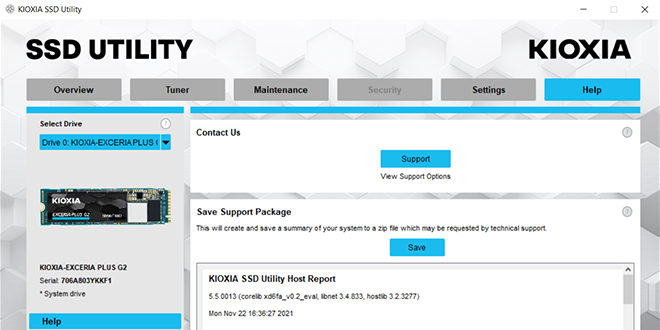 Support becomes efficient with the Save Support Package feature. Also, if you need help figuring out settings or troubleshooting an issue, SSD Utility links right to the support contact pages.
This version of SSD Utility is compatible with KIOXIA manufactured SSDs only (see compatible products in the table below). For Toshiba Memory manufactured SSDs, please go here.
End User License Agreement (EULA): By downloading SSD Utility you are accepting all terms and agreements in the EULA.
When you download SSD Utility we collect your IP Address for security and statistical purposes only. For more information regarding our legitimate interest for collecting your IP Address please review our Privacy Policy.
* Table can be scrolled horizontally.
Latest Version for
EXCERIA SATA SSD

Latest Version for
EXCERIA PLUS Portable SSD

Latest Version for
EXCERIA PRO SSD
EXCERIA G2 SSD

Latest Version for
EXCERIA PLUS G2 SSD
EXCERIA PLUS SSD
EXCERIA SSD

5.5.0013
(Note: Firmware update feature is not available in this version. It will be available in future release.)

5.3.0004
(Note: Use this version for firmare update)

All (DMG files are used to
create a bootable USB drive)

EXCERIA PLUS Portable SSD

EXCERIA PRO SSD
EXCERIA G2 SSD

EXCERIA PLUS G2 SSD
EXCERIA PLUS SSD
EXCERIA SSD
Windows: Make sure to set your SATA controller to AHCI (Advanced Host Controller Interface) Mode in the motherboard BIOS if it is not; for instructions see the user documentation for your computer.
SSD Utility is required to be run as a system administrator.
Internet connection is required for firmware and BIOS update.
Make back-up copies of any data on the SSD that you want to keep; some operations result in the complete loss of data on the SSD (you will be warned if this will occur).