KIOXIA launches new consumer SSD delivering PCIe 4.0 performance for mainstream users
Düsseldorf, Germany, 7 July 2023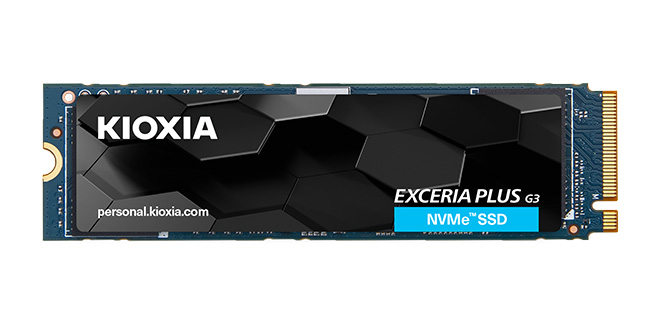 KIOXIA Europe, a world leader in memory solutions, today announced the launch of the EXCERIA PLUS G3 NVMe SSD Series, scheduled to be available at KIOXIA Distributors in September 2023.
For more information please read the Related Press Release.
Notes:
The following trademarks, service and/or company names – NVMe, NVM Express, Inc. – are not applied, registered, created and/or owned by KIOXIA Europe GmbH or by affiliated KIOXIA group companies. However, they may be applied, registered, created and/or owned by third parties in various jurisdictions and, therefore, protected against unauthorised use. All other company names, product names and service names may be trademarks of their respective companies.

The line up of personal product vary by country and region.
Product images may differ from actual product.
About KIOXIA Europe GmbH
KIOXIA Europe GmbH (formerly Toshiba Memory Europe GmbH) is the European based subsidiary of KIOXIA Corporation, a leading worldwide supplier of flash memory and solid state drives (SSDs). From the invention of flash memory to today's breakthrough BiCS FLASH 3D technology, KIOXIA continues to pioneer cutting-edge memory solutions and services that enrich people's lives and expand society's horizons. The company's innovative 3D flash memory technology, BiCS FLASH, is shaping the future of storage in high-density applications, including advanced smartphones, PCs, SSDs, automotive and data centers.
Information in this document, including specifications and contact information, is correct on the date of the announcement but is subject to change without prior notice.