Toshiba Memory kondigt een bijgewerkte versie aan van de officiële applicatie voor de draadloze SD-kaart FlashAir W-04
Meer comfort in gebruik dankzij aanvullende ondersteuning voor het RAW-gegevensformaat, een auto-save-functie en een bestandstypeweergave-filterfunctie
Düsseldorf, Duitsland, 21 december 2018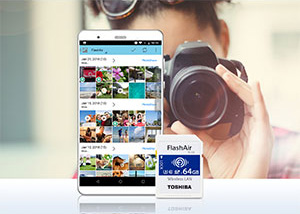 Toshiba Memory Europe GmbH heeft versie 4.3.1 van de officiële smartphone-applicatie voor de draadloze SD-kaart FlashAir W-04 uitgebracht. Deze nieuwe versie bevat aanvullende ondersteuning voor het RAW-gegevensformaat[1] en functies die beschikbaar gemaakt werden in v.4.3.0 zoals de Auto Save-functie voor foto's die gemaakt zijn met een digitale camera, bestandstypeweergave-filterfunctie voor foto's, films en RAW-bestanden, waar vele gebruikers om gevraagd hebben.
Dankzij de Auto Save-[2]functie van de app worden foto's en video's automatisch overgedragen naar de smartphone en opgeslagen. Deze functie geeft gebruikers meer mogelijkheden, samen met de bestaande methode om beschikbare foto's handmatig te selecteren en over te zetten.

Voor een betere gebruikservaring kan de Display Settings-functie gebruikt worden om gemakkelijk te filteren op basis van foto-bestandsformaat (bijv. JPEG), video's (bijv. mp4) en RAW-bestanden. Dankzij de optie om de weergave te limiteren op basis van het bestandsformaat kunnen gebruikers soepel een voorbeeld van bestanden oproepen en bestanden delen.

De officiële app kan geïnstalleerd en geüpdatet worden via Google Play voor Android of de App Store voor iOS:

Android apparaten・Google Play: https://play.google.com/store/apps/details?id=jp.co.toshiba.android.FlashAir
iOS apparaten・App Store: https://apps.apple.com/us/app/flashair/id630414772
Opmerkingen:

[1] Aanvullende RAW-bestandsformaten die ondersteunt worden voor foto-/video-bestanden omvatten .X3f en .X3i
[2] De Auto Save-functie is alleen beschikbaar voor FlashAir W-04 met app-versie 4.3.0 of nieuwere. Voorgaande modellen van FlashAir ondersteunen deze functies niet.

Android en Google Play zijn handelsmerken van Google LLC.
App Store ie een handelsmerk van Apple Inc.
Alle andere bedrijfsnamen, productnamen en servicenamen kunnen handelsmerken zijn van de respectievelijke ondernemingen.

FlashAir product-webpagina: https://www.toshiba-memory.com/products/toshiba-wireless-sd-cards-flashair-w-04/

De informatie (prijzen/specificaties, servicevoorwaarden, contactinformatie, etc.) die in deze release opgegeven zijn, zijn geldig op het moment van de release. Wijzigingen zonder voorafgaande kennisgeving voorbehouden.